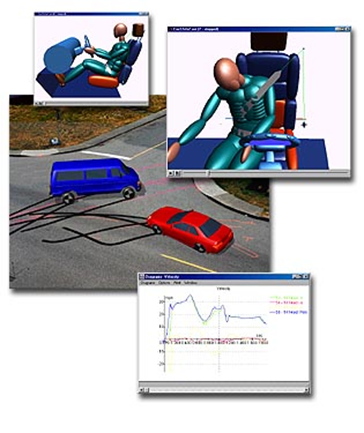 Contact Us For:
Accident Site Photo logs
Advanced Scene Investigations
Analysis of Physical Evidence
Biomechanics of Injury
Collision Dynamics
Exemplar Vehicle Examinations
3D Forensic Mapping
Forensic Vehicle Examinations
Highway Design & Traffic Control Analysis
Human Factors Forensics
Impact Dynamics
Low Speed Collision Analysis
Motorcycle Accident Investigations
Occupant Dynamics
PC Crash Analysis

Pedestrian

&

Bicyclist

Accident Reconstruction
Principal Direction of Force [PDOF] Analysis

Seat Belt/

Air Bag Examinations
Traffic Accident Investigation and Reconstruction
PC Crash allows for simultaneous simulation of up to 2 vehicles (PC-Crash 2D), or 32 vehicles (PC-Crash 3D), with up to five axles per vehicle.
Interface to Specs (North American), ADAC, Vyskocil, DSD (European and Japanese), and KBA vehicle databases.
2D or 3D kinetic calculation model.
Front/rear brake force distribution model plus ABS braking model.
ESP (Electronic Stability Program) model
Specification of driver reaction, accelerating, braking, steering, and other parameters in the form of sequences.