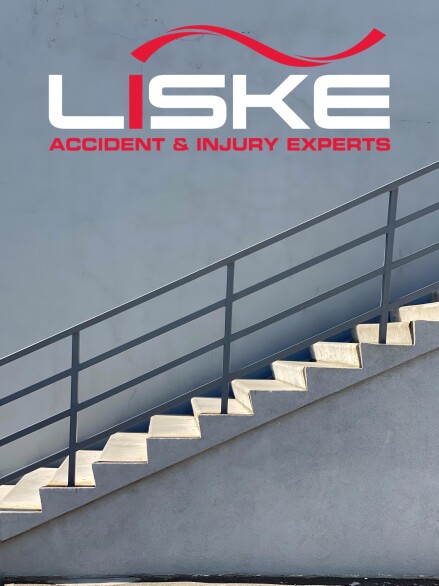 Premise Liability Factors - Stairway Accidents
August 30th 2022
Premise accidents can occur almost anywhere and involve a wide range of built structures – from sidewalks to speed bumps, to roadway potholes. One such area where falls commonly occur is stairs. Stairway falls occur on both exterior and interior stairs and can involve slips, trips, and missteps.
Our Human Factors and Premise Liability teams are very experienced in investigating stairway falls. Regardless of whether the accident occurs inside or outside, there are multiple factors that need to be considered. Note, the below is not an exhaustive list.
Lighting should be considered, particularly if the accident occurred outside during dusk, dawn, night conditions, or inside in an area not well illuminated by natural light. A light meter is an important tool for these measurements.
The rise (height) and run (depth) of the subject stairs must be measured to ensure they are compliant with the relevant building code(s). The greatest difference between the largest and smallest tread height and tread depth is also an important consideration, and again should be verified against the applicable codes.
The surface of the stairs should also be examined, and if necessary, the coefficient of friction should be measured to assess if the surface of the stairs constitutes a slipping hazard. If the stairs are subject to periods of rain, and/or snow, investigators should consider whether the stairs were designed/built in such a way where rain, snow, and/or ice can accumulate. The nosing of each stair should also be assessed for potential code violations, and to ensure all nosing are in good repair.
Handrails must also be measured to document their shape, height, length, and uniformity, and to determine whether said measurements comply with the applicable codes.
Another important factor to consider is the conspicuity of the subject stairs as one approaches. If the stairs are placed in a walkway, is it obvious that the level walkway is interrupted by stairs (typically one or two stairs in these cases), or do the stairs 'blend in' with the walkway?
The presence of any/all landings must also be documented and assessed to ensure the applicable codes are met.
While the above is not an exhaustive list, it does illustrate that stairway falls are not simple, and many factors may be involved in an accident. If you have any question or would like to talk to one of our Team Experts, contact us today.
Why LISKE?
LISKE is an established leader in the field of accident and injury reconstruction with over thirty years of customer trust. We are dedicated to providing a principled and unparalleled customer experience and continue to strive for excellence, acting with integrity, thoroughness, and accountability. The high-level approach we take to each assignment ensures that no element of causation is overlooked, and no stone is left unturned. Our multi-disciplined team of scientists, engineers, and ACTAR accredited reconstruction experts prepare a comprehensive, objective, science-based analysis of each accident, powered by next-generation technology. A LISKE accident and injury reconstruction provides a foundational pillar you can count on, whether as a building block to causation, or in the rebuttal to an unacceptable, misinformed, and overreached opposition conclusion. Plan your litigation strategy and achieve the best resolution for your client with LISKE Accident and Injury Experts.